Car Parking
Ample free parking is available at the airfield in either the main car park or on the field adjacent to the runway. Coach parties are welcome with prior consent. All vehicles and their content are parked on airfield property at the risk of the vehicle owner. Coach parties are welcome by prior appointment.
The Holding Point Cafe
The Holding Point Café is the meeting area for people taking part in the various activities at the aerodrome, whether pilots, parachutists or spectators.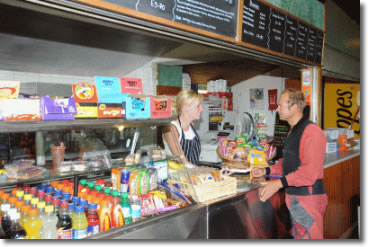 Situated at the end of the main building it offers tea, coffee and cold drinks as well as freshly prepared fare. Choices on the menu range from a hearty full English breakfast to snacks, sandwiches and ice creams, all at reasonable prices served by friendly staff. As well as seating inside there is an outside area with picnic benches and umbrellas.

Opening hours:-
Monday – Friday 9.00-17.00
Weekends 8.00-18.00

Wings Bar
Situated at the main entrance to the airfield, Wings is a fully licensed bar serving alcoholic beverages as well as food in the evenings. Frequented by the locals as well as those who have participated in events during the day, this is the venue for many a tall aviation story!
Spring Opening Hours
(30th March - 17th June)
Mon-Thu
Closed
Fri-Sun
17:00-23:00
Last orders for food 21.00
Children's Play Area
There is plenty of space for the kids to run around, as well as a wooden aeroplane for them to play on. Please make sure your children are supervised at all times and that they do not wander near the aircraft.
Shenley Farms Engineering
All the engineering work for the Weald Air Services Fleet of aircraft is carried out by Shenley Farm Engineering. As well as in-house work engineering is carried out on private aircraft from around the South of England to the strictest CAA standards. JAR 145 approval. For more info click here.
Hi-Flight Aerospace
Hi-Flight Aerospace offer a bespoke interior and exterior refurbishment facility for aircraft and boats. See their website at:http://www.hi-flight.co.uk for further details.

The picture is of a recent re-spray undertaken at the airfield.